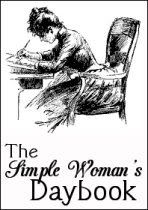 For Monday, February 16, 2009


Outside My Window...bright afternoon sunlight.
I am thinking...I didn't know a girl could be so happy!


I am thankful for... many years of prayer brought to fruition.


From the kitchen... I just finished savouring a bit of dark chocolate with cocoa nibs.


I am wearing... green, black, blue


I am creating... an idea for a special dress.


I am going... to Australia.


I am reading... The book of Isaiah. Gaudy Night. And lots of books with the letters W...E...D...in the title.


I am hoping...to be a help to an amazing man!


I am hearing... the hum of the dishwasher, my sister muttering over her geometry, and my brother making explosions as he plays with his army men.


Around the house... stacks of laundry waiting for me.


One of my favorite things... my sister's computer. ;)


A Few Plans For The Rest Of The Week: check things off my ever-growing list!


Here is picture thought I am sharing...