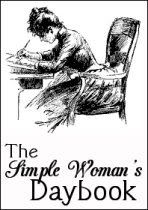 For Monday, July 28, 2008


Outside My Window... The big maple tree swaying in the wind.
I am thinking...that I am tired (from cleaning the kitchen), and that I should get the raspberry bars out of the oven soon.


I am thankful for...the ability to BREATHE! I'm also thankful that our van is now in working order.


From the kitchen... ack! my raspberry-nut bars! ...ah, yes, finally, safe from the oven


I am wearing...my sister's pink t-shirt, and black sports capris.


I am creating... more like I
should
be creating 3 summer skirts from the material that I've bought.
I am going...to practice violin... when I finish this.


I am reading... Anne of Windy Poplars.


I am hoping... to have time to come up with a suitable plot for a 50,000 word novel within the week.


I am hearing...air conditioner, Kara's sewing machine, & my brothers discussing where to next place the pet tarantula.


Around the house...it's clean! wow! :D


One of my favorite things... dancing... I haven't done that in a while.


A Few Plans For The Rest Of The Week: the aforesaid plot, work at the Farmers Market, violin lesson, and ...hoping for some serious progress on learning the guitar.


Here is picture I am sharing... nothing this week.
Thanks to the Simple Woman for hosting the Monday daybook!