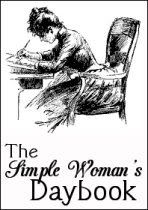 For Monday, February 28, 2011
Outside My Window... I am presently in the basement, and therefore, there are no windows in sight.
I am thinking... that it's lovely to start one's day with breakfast in bed, while listening to
Andrea Bocelli
's
operatic arias
, and reading
Shakespeare
's
The Taming of the Shrew
.
I am thankful for... love and patience.
From the kitchen... the clatter of dishes being washed.
I am wearing... a mismatched collection of pajamas. Yes, at 1 in the afternoon.
I am creating... an apron-- so excited about it-- and I have many ideas for future projects, including some bags and totes, and hopefully a purse or two. And some more aprons. I love aprons.
I am going... to step out into the warm morning air soon.
I am reading... Ivanhoe by Sir Walter Scott, Under the Sea Wind by Rachel Carson, The Taming of the Shrew by William Shakespeare, When People are big and God is Small by Edward T. Welch, & Guidance and the Voice of God by Phillip D. Jensen and Tony Payne.
I am hoping... to see
Josh Groban
this spring!
I am hearing... the parakeets singing upstairs.
Around the house... the time for spring cleaning approaches!
One of my favourite things... spending time with friends and talking about books while we sew, bake, or do other fun things.
A few plans for the rest of the week: Read books, write letters, sew, practice violin, and prepare for my final orchestra concert this Saturday.
Here is picture thought I am sharing... a renaissance shirt and cape I made, donned by my brother and a friend.
Thanks to the
Simple Woman
for hosting this.