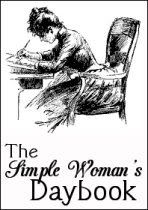 For Monday, March 8, 2010
Outside My Window... Windblown lemon and lime trees, withered tomato plants.
I am thinking...that I'd like to find out more about Charlotte Mason. Perhaps a visit to handy dandy Wikipedia is in order. ;)
I am thankful for... Health and strength and daily food.
From the kitchen... John and I just finished a loaf of cinnamon raisin bread. Yum!
I am wearing... Blue jeans, red blouse.
I am creating... Patchwork cards from scraps of paper.
I am going... to dinner at a friend's home tonight.
I am reading...
a memoir of a woman who came to Australia from England in the 19th century.
I am hoping... to go on a walk.
I am hearing... the wind rattling the laundry room door.
Around the house... Stacks of books.
One of my favourite things... a clean kitchen.
A few plans for the rest of the week: Go shopping, cook for company.
Here is picture thought I am sharing...
One of said stacks, with an (apparently) deathless flower arrangement.