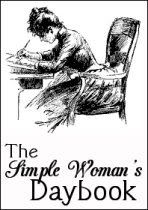 For Tuesday, January 26, 2010 (still Monday in the USA!)
Outside My Window... The barbecue grill that John and I put together yesterday, using a screwdriver and spanner (wrench). I love learning new words!
I am thinking... It's about time to sit down with my Latin book.
I am thankful for... Wikipedia. I've learned some interesting things lately--most recently, I've been reading about
locusts
. (see "Hoping" to find a clue why)
From the kitchen... we'll be cooking outside, for
Australia day
! Lamb chops, veal shanks, veggie kebabs marinated in Italian dressing.
I am wearing... Coral cardigan, floral top, sand coloured linen capris.
I am creating... ideas for Valentine's day. I want to make this cute
heart garland
.
I am going... nowhere. Grocery shopping is already done for the week. :)
I am reading...
Asterix
(finished four in the last week)
Asterix the Legionary
is my favourite so far.
I am hoping... to read aloud to my husband later today. I'm introducing him to the
Little House
books, and we're up to On the Banks of Plum Creek.
I am hearing... birds chirping, washing machine sloshing.
Around the house... Blue and white in the kitchen: Dutch tile and windmill plates on the wall, a clog on the windowsill, the new hotpads I made hanging by the stove.
One of my favourite things...
Affogato
.
A few plans for the rest of the week: Finish a book or two, catch up on correspondence.
Here is picture thought I am sharing...
Melting sun