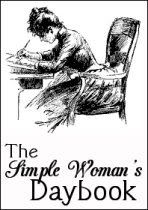 For Monday, August 18, 2008
Outside My Window... a part of the back yard: green grass, two of the three pine trees, the neighbors back yard, the hedge trees behind the house
I am thinking...that I should get back to practicing violin soon.
I am thankful for... the nice cool weather--my favorite!
From the kitchen...some bread dough in a big shiny bowl. Probably rising now.
I am wearing... jeans, and a grey scoop neck t-shirt with little black hearts, and a blue hat that I crocheted.
I am creating... a novel. (I'm at 25,000+ words! :D :D :D)
I am going...to stay home today. :)
I am reading... Llama's on the Loose by Jeri Massi (just reading it for fun), I'm also reading Anne's house of Dreams by L.M. Montgomery
I am hoping... to get several thousand words in today.
I am hearing...Other than the air conditioner? Silence.
Around the house... pretty quiet right now. There will probably be some cleaning happening after a bit.
One of my favorite things... sleeeeeep. *yawn*
A Few Plans For The Rest Of The Week: writing-- serious writing-- maybe I should call a friend of mine sometime, work at the farmers market, violin lesson…
Here is picture I am sharing... well… I was going to have one, but it'll have to wait until another post.
Thanks to the
Simple Woman
for hosting the Monday daybook!